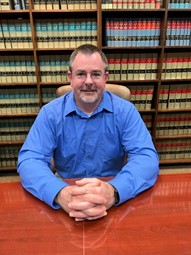 Education
Magoffin Co High School – 1991
Mayo State Vo/Tech – 1992
Door and Hardware Institute – 2021 to Present
Licenses and Certifications
Master Electrician – ME10411 – 1996
Certified Locksmith – 1999
Certified Installer for AD Sliding Door Systems – 2020
AAADM Certified Inspector – ID 210382 – 2021
Door and Hardware Industry Associate – DHIA – 2021
Experience & Bio
Mark started working in the door and hardware industry part time with his father, Ronnie Gullett, in 1992. Two years later, they formed the company Ronnie R Gullett and Son LLC. They worked for many general contractors and distributors across Eastern and Central Kentucky as subcontractors installing frames, doors, hardware, and division 10 specialty products and accessories. In 1999, he pursued his locksmith certification to add to their abilities. Mark has worked on a variety of projects including: K-12 and collegiate institutions, hospitals, nursing homes, behavioral health care, court houses, jails, office buildings, banks, hotels, and retail.
Mark studied electricity and electronics his junior and senior years of high school and went on to Mayo State Vo/Tech to take additional training in the electrical field. He worked part-time with his grandfather, Willie G Gullett, owner of Gullett's Electric LLC, helping in the store and installation. In 1996, he received his Master Electrician's license. As his heart was more focused on the door and hardware industry, he began utilizing this skill on electrified door hardware, automatic operators, and access control.
In 2004, Mark decided to move to Lexington, Ky and join a major door and hardware distributer in the tri state area where he would spend the next 18 years. During this time, he has managed the key shop, set up keying systems, set up a hardware preinstallation department, worked and supervised on site installation of frames, doors and hardware, installed (including wiring, terminating and programming) access control systems, and servicing doors, frames, hardware and electronics.   Later he would take over as project installation manager, where he would oversee small and large installation projects throughout their duration.
Mark has the experience of working alongside all parties of the project such as electricians, security contractors, architects, engineers, and owners,  producing a complete working door for the end user. Mark can also assist or draw up riser and point to point diagrams as requested. A lot of times, there are "grey areas" in the documents and drawings like: who's pulling wire, who's supplying pathways and boxes, and who's terminating the connections at the door, frame, power supply, and junction box. Mark likes to push to have preinstall meetings to clear up what each party will be responsible for. This saves time, money, and headaches and produces a smoother job.
Over the last several years, Mark had a strong desire to get into the hardware specification writing field. He is currently enrolled at the Door and Hardware Institute where he is pursuing his AHC or DHSC credentials. Mark brings to CIHS a 30-year background in installation and training and plans to carry on the same great service that CIHS is widely known for.