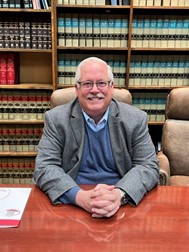 Degrees:
BS – Mechanical Engineering – University of Louisville – May 1987
BA – English – University of Louisville – December 1986
Certifications:
SCIP  (Specification Consultants in Independent Practice) – November 2011
AHC (Architectural Hardware Consultant) – Door and Hardware Institute – July 1997
CSI (Member) – Construction Specifications Institute – June 1992
Experience & Bio
Joe Calvert has written over three thousand door hardware specifications for many dozens of prestigious architectural firms. Past-president of the Louisville Chapter of the Construction Specifications Institute, he has published technical articles in the national trade journals of the Door and Hardware Institute and the Construction Specifications Institute as well as the newsletters of the Louisville CSI and the AIA-CKC. He has taught many CEU seminars on Means of Egress, Fire/Life Safety, Security, and the Kentucky Building Code (IBC). Additional emphasis has been on electronic access control hardware, coordination of electrical and mechanical hardware, demanding maintenance applications, and high-end aesthetics.
Joe spent his first (12) years in the hardware industry as a manufacturer's representative tutored by his father, James Robert (Bob) Calvert, who had over (50) years of experience in the industry. Joe's grandfather, Delmer James (Del) Calvert was also in the hardware business as president of Monarch Exit Devices. Joe's approach to selling for some (20) manufacturers was service-based. He personally installed over a hundred exit devices and closers on the hardest hit doors of schools, universities, and hospitals all over Indiana, Kentucky and Tennessee side-by-side with the maintenance personnel at those institutions. Representing the electronic access control hardware manufacturers, Locknetics Security Engineering and Architectural Control Systems, Inc., Joe spent countless hours on ladders above drop ceilings trouble-shooting electronic locking systems while learning from factory engineers. The result of Joe's experience is an uncommon knowledge of both mechanical and electrical products, an understanding of the installation of those products, and a heightened sensitivity to the needs of the people who operate and maintain institutional openings.
Joe's next (5) years were spent working for contract hardware distribution in the roles of Manager of Engineering, Technical Manager, and Sales Manager. Eventually, it became clear that Joe's career love was in the writing of hardware specifications.  On November 14, 2006, Joe left the supply-side of the industry to begin full-time self-employment through Calvert Independent Hardware Specifications, LLC, which he had originally incorporated as a part-time endeavor on February 18, 2004.  Joe is the only AHC in the USA who is also a member of Specification Consultants in Independent Practice; this requires full separation from suppliers and manufacturers and full-time employment in the writing of specifications, each for a minimum of five years.